We're here to help
Get in touch!
IT Asset Disposition (ITAD)
---
At BCS, we take your unused IT assets seriously. We also understand that
time

equates to

value

.

.
BCS will always abide by your company's standards and handle the logistics efficiently with speed, precision, and full transparency, so you are always up to speed about how we're handling your IT asset.
We hold ourselves accountable of respecting your company's processes and abiding by your brand's regulations and mandates to avoid channel conflict, security breaches, or other issues. We ensure this by undergoing annual audits and personal inspections.
---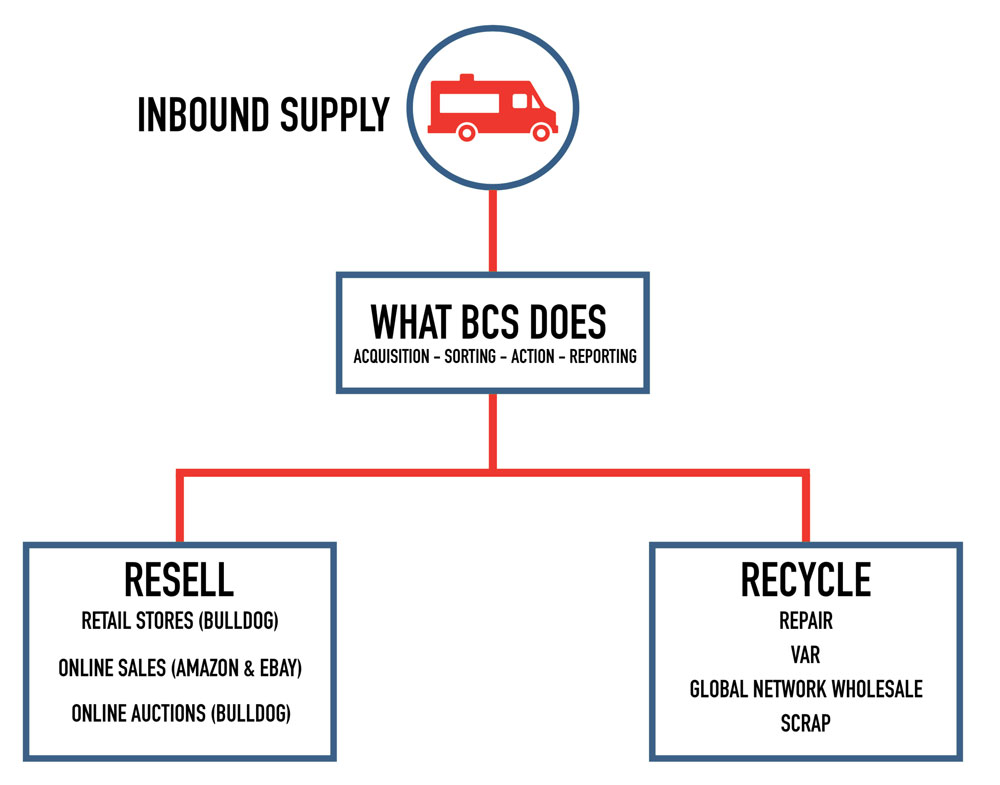 ---
Acquisition
BCS will arrange to receive your IT assets at one of our facilities.
---
Sorting
BCS will sort your IT assets into appropriate categories, depending on how they will be recycled, reused or disposed of.
---
Action
BCS will take the necessary steps to recycle, reuse or dispose of your IT assets in an environmentally friendly manner.
---
Reporting
Within 30 days we will prepare a custom report that tracks the results and final environmental impact of your IT assets.
We measure our success by the amount of repeat business we've received over the years. BCS has earned its position in the industry by mastering 4 major tenets:
RECYCLE, RE-USE, REPAIR, and REPORT
A trusted leader in the industry for 30 years
Maximizing the value of your un-used surplus
Exceed industry's standards by protecting partner's interests
R2 and ISO 14001 Certified. Holding multiple certifications through Orion Registrar, Inc.
Registered on both state and federal levels
Operating on a nationwide scale through our many warehouses and retail locations
For over 30 years, BCS has served our client partners with virtually all of their surplus and end-of-life asset needs. We host a massive nationwide footprint and over 250,000 square feet of warehouse space between multiple locations across the United States. We are uniquely qualified to solve all asset and excess waste challenges that businesses, like yours, face on a daily basis while being environmentally responsible by striving for maximum landfill diversion.
Recycling Loads per month
---
---
Trusted by The World's Leading Companies

BCS Recycling Specialists Asset Management will cultivate mutually value-driven partnerships with top-tier organizations and provide innovative, environmentally responsible end-of-life asset management and recycling services. We are your complete reverse logistics resource.